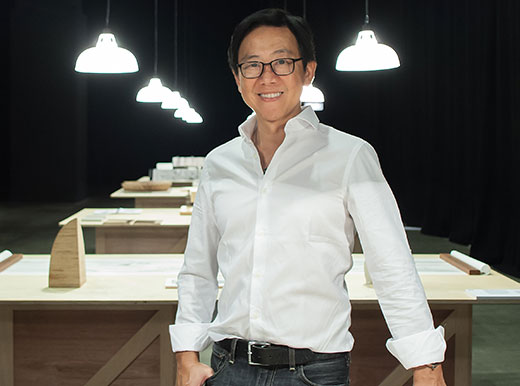 William Lim
Founder and Managing Director of CL3 Architects
As Founder and Managing Director of CL3 Architects, William Lim brings over 20 years of experience to his projects. An acclaimed architect and artist, William graduated from Cornell University and has been at the forefront of architecture, culture and art globally.
Since founding CL3 in 1992, William has achieved world-wide recognition with award-winning architectural and interior projects for hotels, restaurants, retail, corporate, residences and art installation design.
William is registered with the National Council of Architectural Registration Board and is a member of the Architects Registration Board, the Association of Architectural Practices Ltd., the Hong Kong Designers Association, the Interior Design Association, the American Institute of Architects and the Hong Kong Institute of Architects.
Aside from his architecture credentials, William is also a celebrated artist. He participated in the Venice Biennale's International Architectural Exhibition in 2006 and 2010, and the Hong Kong & Shenzhen Bi-City Biennale of Urbanism/Architecture in 2007, 2009 and 2012. His work has been exhibited in Hong Kong,Chengdu, Korea, the United States, and the Netherlands.
Committed to promoting culture and education, William is currently the Advisory Council Member and Member of the China Advisory Board of the College of Architecture, Art and Planning at Cornell University, Member on the Asia Pacific Acquisition Committee for Tate, Gallery Advisory Committee Members for The Asia Society Hong Kong Center and Museum Expert Advisers for the Hong Kong Museum.